This challenge was solved by and the write up was written by one of my teammates, NGG.
The task was to break a TLS connection where DHE was used but not with a safe prime.
I extracted the group parameters and the public keys from Wireshark.
To get the private keys I had to compute the discrete logarithm of the public keys, Sage has a builtin function discrete_log() for this.
That function internally uses the Pohlig-Hellman algorithm, the problem's name was a reference to this.
After I had the private keys, I computed the shared secret (= server private key ** client public key = client private key ** server public key).
TLS uses this shared secret as the Pre-Master Secret.
Recent Wireshark versions support PMS_CLIENT_RANDOM lines in SSL key log files, which means that I could give it the Client Random and the PMS.
Unfortunately this didn't work, Wireshark didn't properly parsed that line.
I fixed this issue in Wireshark, and later submitted the fix for them, it has been merged into the main Wireshark repo: https://github.com/wireshark/wireshark/commit/a386fc99ac72b4cdb88cb3d26fd19d6251391b96
After this patch it successfully decrypted the TLS session and I got the flag.
KT's notes
Wireshark did not recognised the SSL stream for me by default, so I had to use the Decode As… > SSL option to make this work.
While NGG patched the Wireshark, I used Bouncy Castle to generate the master secret from the pre-master secret as Wireshark could decode the packet by using the master secret (but NOT with the pre master secret).
But I had to use the new PRF function which is used by TLS v1.2, the SHA256 one. I first tried to use the legacy (MD5+SHA1) one which did not work of course.
The decrypted stream was gziped too, so I had to decompress it manually.
Here is my python code to calculate the pre master secret from the private key primes (provided by NGG):
And this is my C# code to calculate the master secret from the premaster secret:
Setting this file in File > Preferences > Protocols > SSL as the (Pre)-Master-Secret log filename I could follow the SSL with the unpatched Wireshark too: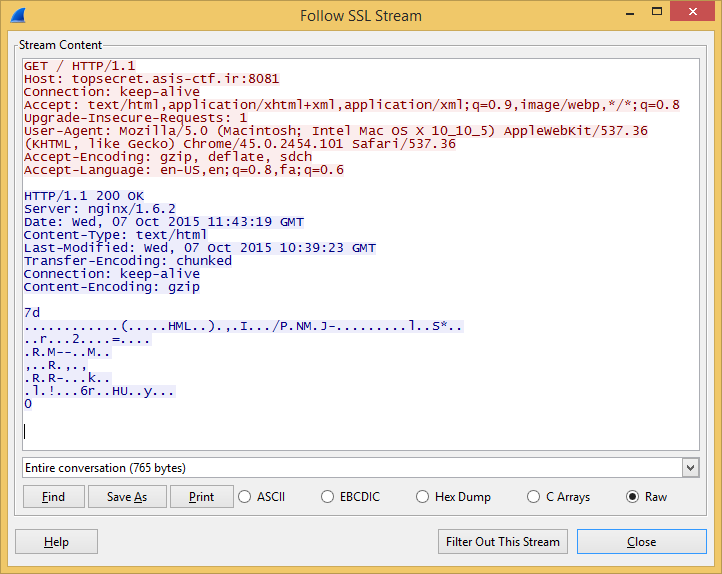 After decompressing the HTTP response body I got the file's content: